Ramada Inn, BWI Airport
7253 Parkway Drive
Hanover, Maryland 21076
(410) 712-4300
June 8-10, 2004
Purpose
The Space Internet Workshop (SIW-4) will bring together mission planners, technologists, system designers, engineers, and scientists from the space community to enable transparent end-to-end network communications among space mission resources. Communications within and between the various space environments are included. This workshop is fourth in the series to continue comprehensive discussions of cost-effective technical solutions for the design and engineering of mission communications. The goal is to foster dialog on current and near-term related activities for deploying Internet technologies for flight missions and identify critical technology development areas.
All final submissions must be in the form of presentations only. All workshop activities will take place in an open forum and participants are advised that there is no explicit protection for proprietary information.
We look forward to your participation in Hanover, Maryland, for the Fourth Space Internet Workshop.
Registration & Fees
The registration dates and fees for future SIW events will be posted at a later date.
Call for Abstracts
Notice of Intent to Submit

[These specifications for abstract submission were used for SIW-4, and are subject to change for future workshops.]
If you are planning to submit an abstract, please send an e-mail indicating the title of the presentation. This will allow the Technical Committee to get a head start in organizing the workshop.

Abstract Submission
Submitted abstracts should be no more than one page (8.5" x 11") in length and must relate directly to the subject and scope of the workshop. Abstracts should be submitted preferably as a Microsoft Word document, with a list of the authors and their affiliations (including address), telephone numbers, and email addresses.

Selection of all contributed oral presentations is based on the submitted abstracts. An individual may be an author on more than one submission. A selection committee will determine which oral presentation to accept, by considering quality and significance of the content as well as its appropriateness to the subject and scope of the workshop.

Those who have been selected or designated as alternate oral presentations will be invited to contribute their submission as presentations and/or technical papers for placement on the SIW-4 web site. Those alternates who are not able to present are also invited to display a poster at the workshop. Oral presentations and posters may discuss or describe applications of commercial products/services, but must be substantially more than advertisements in nature.

International participants are welcome, as are participants from governmental, private, academic, and commercial/industrial organizations.

All submissions and presentations must adhere to relevant government regulations regarding disclosure and distribution. Submission will constitute approval to publish in any way or in any venue (including the Internet) deemed appropriate by the organizing committee. Such publication will not imply endorsement by NASA, the US government, or any other entity.

The program is expected to include an invited speaker, contributed oral presentations and posters, birds-of-a-feather (BoF) sessions, and panel discussions.
SPACE INTERNET OVERVIEW

Internet related benefits and issues



MISSION PLANS AND IMPLEMENTATION

Missions planning to use Internet communication technologies

Scientific, military, and commercial spacecraft

NASA Space Transportation System (STS) (Space Shuttle) &
International Space Station (ISS)
Constellations, formation-flying missions, and single nodes

Nano-, micro-, and macro-satellites

Relay satellites

Buoys, balloons, and aircraft

UAVs

High altitude airships

Planetary rovers


Specific mission design approaches
Lessons Learned



End-to-End IMPLEMENTATIONS & CONCEPTS

Security issues (commanding, data delivery, interoperability)
Instrument-to-Principal Investigator (PI) communication (transparent networking)
Data management (onboard and through all ground systems)
Commanding (reliable protocols, blind commanding, stored commands)
Contingency operations (one-way links, alternate ground stations)
Autonomy (end-to-end data delivery, email-based commanding)
Protocol analysis, testing, and evaluation



INFRASTRUCTURE -- CURRENT & FUTURE DEVELOPMENTS

Onboard hardware/software (LANs, operating systems, etc.)
Space-to-ground (transmitters/receivers, coding, framing systems)
Space-to-space (transmitters/receivers, coding, framing systems)
Ground systems (tracking station and data processing components)
Security solutions (space-to-ground, ground-to-ground, space-to-space, remote access)
Enabling tools (messaging software, design tools, requirements capture)
Migration from current to future infrastructures
Protocol testing laboratories and processes
Future space based camm/network architectures
Cross-link Comm and operations concepts for constellations and formation flying missions
Dynamic ad hoc networking
Efficient clock sync and time distribution both on-board, inter-spacecraft, and between space and ground
The workshop meets June 8-10.
| | |
| --- | --- |
| Official call for presentations | February 1 ,2004 |
| Notice of intent to submit abstract and title of presentation (via email to: siw4@nasa.gov) | March 12, 2004 |
| Abstracts due (1-page maximum) | March 26, 2004 |
| Notification of acceptance | April 9, 2004 |
| Confirmation by presenter | April 30, 2004 |
| Early Registration deadline | May 3, 2004 |
| Agenda/Program/Abstracts on SIW-4 web site | May 7, 2004 |
| Presentations due electronically (Power Point preferred) | May 21, 2004 |
| Last Day for registration to include food | May 30, 2004 |
Presentations should be submitted in Microsoft PowerPoint.
Submissions in the prescribed format will be published on the web after the workshop. Nominally, oral presentations will be limited to 15 minutes. Additional slides (and additional technical papers) may be submitted for inclusion in the version published on the workshop web site.
SUBMITTING YOUR PRESENTATION
Please provide the following information in your submission email:
[1] Title of Presentation

[2] Principal Author/Contact (please provide the following information for the principal author and/or contact person for the submission: Name, Affiliation, Address, Phone Number, Email Address)

[3] Additional Authors (please provide the full names of all other authors of the submission)
Poster Guidelines
Poster should fit into a space 3 feet deep by 6 feet wide. Specify with your submission the number of easels you will need.
---
The workshop will be held at the Ramada Inn, BWI Airport

Ramada Inn, BWI Airport
7253 Parkway Drive
Hanover, Maryland 21076
Voice: (410)-712-4300
Fax: (410) 712-0921

The Ramada is located approximately 20 miles from Goddard Space Flight Center and approximately 6 miles from Baltimore Washington International Airport (BWI).
Travel & Housing
ROOM
Block Room Rate at Ramada Inn - BWI Airport Conference Center: $89/day plus 12% tax. When making reservations, identify the workshop as Space Internet Workshop-4 or SIW-4, to get the group rate. [Government per diem for this Ramada (which is in Anne Arundel Co.): $95 Room and $47 M and IE. If you stay in Baltimore Co., the Government per diem changes to $139 Room and $47 M and IE.]
Other Local Accomodations
Many other Hotels and Motels are nearby. For an extended list, check with http://www.travelocity.com/ and use BWI as the airport code or ZIP code 21076 for workshop hotel in order to select the search area.
TRANSPORTATION
Free shuttle service at the Ramada to /from BWI airport (approximately 10 minutes). They have 2 ten passenger vans that leave every hour, 24 hours/day. Call (410) 712-4300 from BWI for pickup.
MEALS
Continental breakfast and lunch will be provided as part of the workshop. Restaurant in Ramada Hotel. Free shuttle service from the hotel to Arundel Mills Shopping Center (approximately 2 miles) which has several fine restaurants. Others restaurants near the hotel, but none within walking distance.
Maps & Directions
Maps and directions to the Workshop may be obtained at the Rand McNally web site. Enter the hotel address and ZIP code in the "get a map" area and click GO. The resulting map follows below; wider area maps are available at the web site.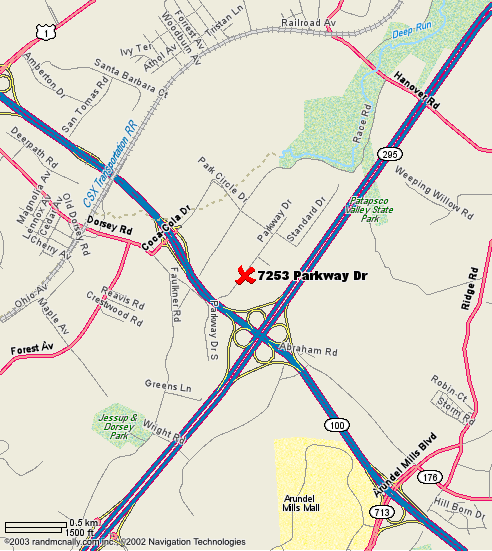 Driving Directions:
From BWI or Baltimore Area:

295 (Parkway) South
Exit at MD 100 West
Exit at #8 Coca-Cola Drive, at light make right on Coca-Cola Drive
Follow road as it curves to the right
At Stop sign, make right on Parkway Drive
Hotel is 1/4 mile on left

From 295 (BW Parkway) Washington, DC Area

295 (Parkway) North
Exit at MD 100 West
Exit at #8 Coca-Cola Drive, at light make right on Coca-Cola Drive
Follow road as it curves to the right
At Stop sign, make right on Parkway Drive
Hotel is 1/4 mile on left
---
Responsible NASA Official: Gary Meyers
Technical Contact Person: James L. Rash @ Goddard Space Flight Center
Curator: Owen Kardatzke